Christmas in Cambridge...it seems appropriate to start this entry with two verses from a Cambridge hymn to set the scene:
1. Although at Yule it bloweth cool,
And frost doth grip the fingers,
And nip the nose,
And numb the toes,
Of out-door Carol-singers,
2. Through snow or sleet we pace the street,
Fair firs, with right good reason,
To with you all,
Both great and small,
The blessings of the season.
(Words: George R. Woodward
http://www.hymnsandcarolsofchristmas.com/Hymns_and_Carols/although_at_yule_it_bloweth_cool.htm
accessed 28/12/07)
We have certainly experienced frost and wind which bloweth cool, and have watched the leaves fall from the trees, and frost cover the ground and roofs on a number of days. The treescape view from our balcony has gradually changed over the last month, and we have discovered that we have a view of King's College through the trees, and have discovered that the garden across the road is home to a number of grey squirrels.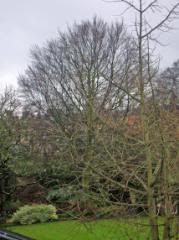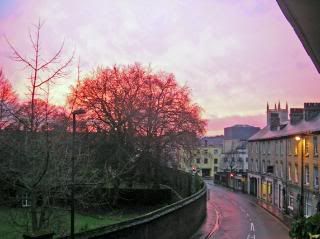 On one day when we ventured forth, we were also fortunate enough to experience a hoar frost, which had left glittering ice on plants and trees. This created a magical snow-like effect, and transformed the landscape into a white wonder.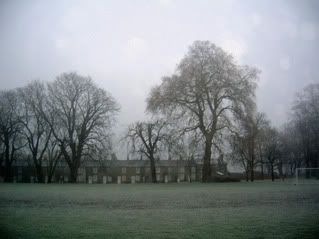 Our
Christmas season
began with the
Wesley House Dinner
, to which all residents, staff and students were invited. The college trees were decked in lights, and the dining room certainly wore a festive air. Suffice it to say that a good time was had by all.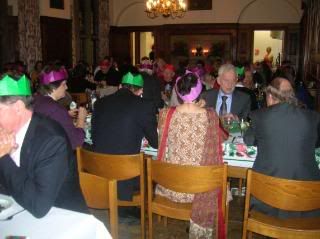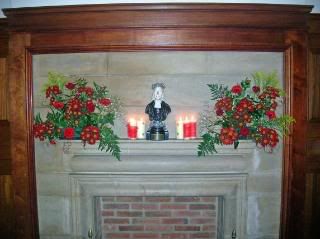 (yes, even John Wesley joined in the festivities!!)
After visiting various stately homes and experiencing some of the elements of Victorian-style Christmases, we decided we would enter into the spirit of things and decorate our humble flat. Laurel kindly lent us tinsel, a small Christmas tree, a nativity scene, and other bits and pieces. The resulting effect wasn't exactly artistic, but it did give our home here a more festive air.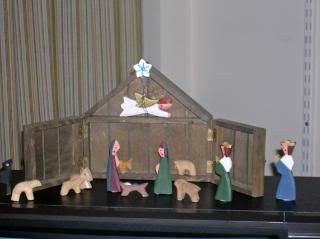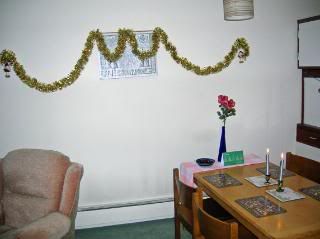 The streets of Cambridge itself also took on a more Christmassy appearance, what with street decorations and homes putting up their own lights and displays.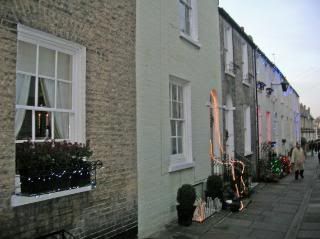 The day of
Christmas Eve
was spent in the company of Mike the artist and his partner Yvonne. The four of us managed to chomp our way through a fabulous Christmas brunch, and a good time was had by all. The next day, instead of the white Christmas that Elizabeth had been hoping for (against all odds, we might add),
Christmas Day
dawned grey and wet.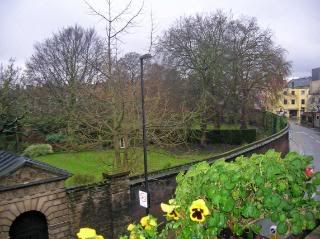 After a festive breakfast of ham and eggs, we sloshed our way through the puddles, to church, for the Christmas service. Afterwards, we returned home to eat mince pies, drink coffee, and exchange gifts.
Laurel and Philip had invited us to their evening Christmas dinner, so in the meantime we read, blogged and tried to ring Australia (this last being unsuccessful, probably due to expats everywhere trying to call home).
The weather gradually improved, and we were treated to a wonderful spectacle from our balcony as the sun set in a blaze of crimson glory.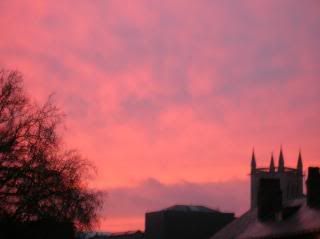 We enjoyed a wonderful traditional feast with Laurel, Philip and their families. Christmas dinner makes so much more sense in the northern hemisphere, and we enjoyed the opportunity to participate in various Yuletide celebrations whilst we were here.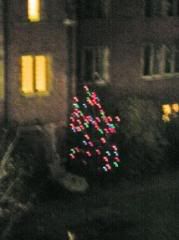 The next day, we set out to feed
the swans and ducks
with left over bread (it was time to start cleaning out the freezer). Our first stop was
Jesus'
Ditch
in Jesus' Green, where we were greeted most enthusiastically by the ducks and moor hens.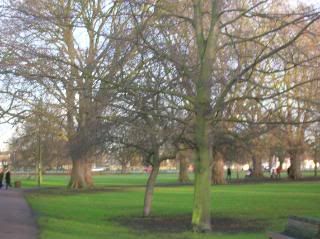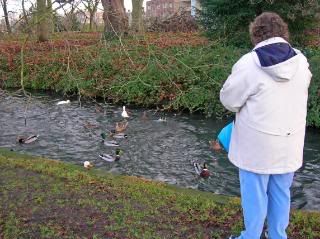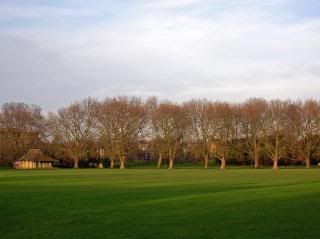 We then went on to the
River Cam
, where quite a number of swans, ducks and gulls had taken up winter residence. Acting like they had not been fed for weeks, they wolfed down our gluten free crusts, fighting over the crumbs.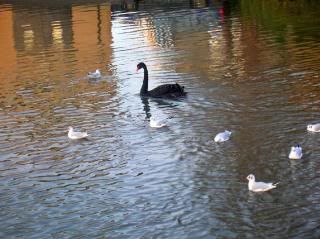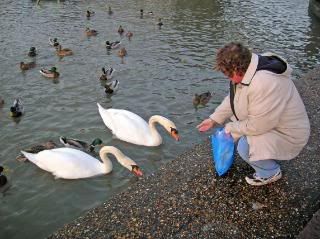 As Elizabeth was feeding the swans, one of them would pull on her hand or coat if she was too slow with the bread (see last photo above). A family of three children appeared, looking wistfully at bread and birds. There was enough crusts to share, so the four of us had fun feeding the birds.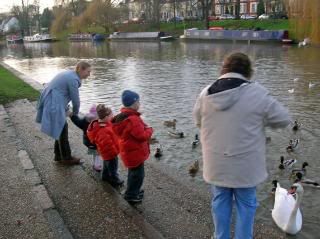 The last two days have been spent packing and clearing out cupboards, and taking masses of rubbish and recycling down to the waste area. We have also been depositing many of things Laurel had lent us back on her doorstep. These deposits have also included Elizabeth's magnificent geraniums, coaxed back from the brink of death on our arrival and now twice their size and flourishing. Not too happy about the idea of leaving them to die, Elizabeth was relieved when Laurel said she was keen to take them.
This is the last Cambridge entry we will write. We are leaving today to fly to Perth and then home to Sydney. We want to thank our faithful blog readers for all of your comments and feedback, and we wish a happy new year to all.